Festivals are an awesome experience – and there are a few creature comforts that attendees have come to expect at any event. Along with restrooms, first aid stations, and concessions, cell phone charging stations are near the top of that list. InCharged has been providing cell phone charging services for many top festivals and events (Governor's Ball and the Firefly Festival, to name a few) and this year was proud to add Bonnaroo to the list.
All You Need to Know About the Bonnaroo
Bonnaroo is one of the most famous and highly sought-after music festivals in the United States of America. During the entire event, artists from all across the world come over to showcase their unique talents and garner appreciation from the audience.
At the same time, Bonnaroo is also known to draw the attention of thousands of people from different parts of the world. You can come across all possible races of people populating the massive farms in Manchester during the music festival. If you are considering joining the huge group this year, it is high time that you should be aware of the essential ways to make the most of the festival.
If you wish to enjoy to the maximum, you should be well-prepared for the multi-day festival that brings in a sense of immense thrill and exhilaration all around. For your ease, we have summed up a list of few important tricks that can help you long way across the path to enjoying Bonnaroo. Here are some:
Keep Your Phone Charged Properly: One of the basic essentials that you would not like to miss out on during the festival is taking lots of photographs as well as videos of the entire event. You would definitely like to leave the premise with lots of beautiful memories.
Your smartphone can play a vital role in ensuring the same –only when you keep it fully charged. Therefore, you should aim at keeping your smartphone charged fully to enjoy the Bonnaroo festival to the maximum. You can either go for the option of carrying along a charging power bank or making use of the multiple charging stations available at the venue.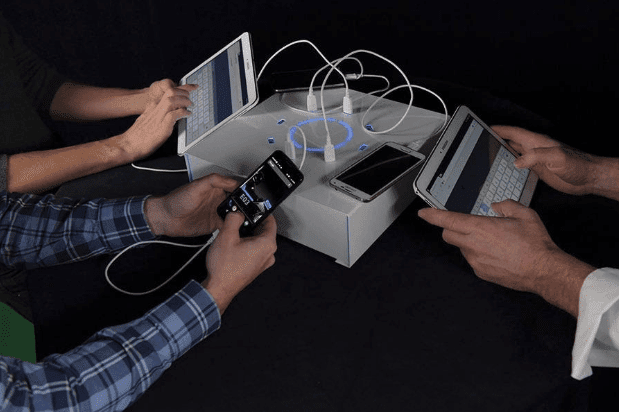 People are known to line up for several hours at the charging stations to keep their smartphones fully charged during the event. This is wherein the innovation offered by InCharged –the leading solution provider of high-end charging stations for all types of events, comes into effect.
Make Use of the Multiple Cell Phone Charging Options at Bonnaroo: InCharged has cell phone charging solutions to suit every need – some event planners choose to make use of the unobtrusive InBox, while others go for the charging stations with an impact such as the InFuse or InVolt. However, Bonnaroo chose to use several of our cell phone charging products in multiple areas of the event.
Event planners wanted a secure solution with more cables, and to stay on the budget they wanted to retrofit our units onto existing tables. The customized solution for Bonnaroo included InBox units skinned with Bonnaroo branding and screwed onto tables in charging tents where attendees could congregate, and InFuse units broadcasted the performances across their HD screens so that no one had to miss a beat while they recharged.
Be Well-fed: When you aim at enjoying Bonnaroo to its fullest extent, you should focus on eating properly at the same time. This is because making the most of this grand musical festival can be quite a calorie-burner for your body.
During the entire course of the multi-day event, you might be expected to get up early in the morning while walking for several miles, dancing, and repeating the same schedule all over again. This is the reason why you should consider keeping yourself well-fed and nourished at the same time.
For every carnival-style, junk-lover out there, you can come across the possibility of spotting your favorite food joints somewhere in the event. Moreover, there are various options for healthy, vegan, and other nutritious food stalls at the venue as well. While smoothie stands might not be guaranteed everywhere in the venue, you can still come across some of the best options for vegan & vegetarian food items.
Keep Yourself Exotic: Bonnaroo is not just another social-day event like your casual day-out party. While you are not required to be an odd-bird by overdressing or over-styling yourself, it is still recommended to follow the latest trends and keep yourself stylish as much as possible. In addition to the overall appearance, you are also expected to keep your conversation bar higher during the event.
Here, you can expect people to come over from different parts of the world to experience its impressive grandeur. This is the reason why you should be well-prepared for all kinds of interesting conversations as well as interactions with other people in the crowd.
When you are dressed up uniquely, you can draw the attention of others around while having a good time in their company. Bonnaroo is all about people-watching, and you would like to give your best shot. Make sure that you are going for something cultural and rocking the look interestingly. You should aim at designing an item of clothing or outfit specifically for the event.
While you aim at dressing up uniquely, it is still recommended to be well-aware of the course of events or activities that will be going on around during the festival. Usually held for around 4 days, this event might take up the temperatures to around 90-degree Fahrenheit, and you cannot expect to done branded outfits every single day. Therefore, the Halloween costume from the last year's festival can turn out to be a major life-saver when you might be skeptical about the overall outfit.
Be Kind; Kindness is a virtue that works in your favor in every typical situation. While you might be confused with the correlation of kindness with the Bonnaroo, we have got it covered for you. The guidebook presented by the Bonnaroo's organizers expresses their in-depth desire to promote the notion of an "economy of generosity."
This implies being kind to each other and even exchanging small gifts as a lovely gesture. While you might be tempted to go over the board when it comes to surprising someone with a lovely gift, it is still recommended to maintain a low key. Make the most of the event with your right attitude and zest to enjoy the festival.
Understand the Mystery of "Bonnaroo Time": You should be aware of the timely nature of the musicians. To top it all, as the festival is organized during the hot summers, you can expect a dearth of proper modes of transportation.
Therefore, you might end up having s confusion about the overall Bonnaroo time. The experts recommend that you should aim at reaching the venue at least 45 minutes before the scheduled performance. This should stand ground whether your favorite band is performing or there is some pre-game going on at the venue's tent.
On the other hand, if you are involved into gaming for a prime-level real estate show or event, then you should expect the die-hard music fans to get the overall act together and show up at the venue quite early. 
It is not common in Bonnaroo to observe the musicians push themselves to the front of the maddening crowd as the show commences –like in other music festivals or events. If you wish to observe a headliner, you can bring out a chair from your camp and enjoy the entire day outdoors.
Be Under Shade: While you might love camping around the Bonnaroo, it is recommended to keep yourself safe by being in the shade as much as possible. The time around which Bonnaroo is organized might experience sudden spikes in the overall temperature. While having fun is a necessary concern, it is equally important to pay attention to your overall health by protecting your body from extreme heat. If there is a breeze outside, it become comfortable to move around in direct sunlight as well.
Make the Neighbors Your Friend: If you wish to have a great time together in the camp, you can consider befriending the neighbors. You might come across some interesting stories to talk about and have some fun moments together.
Moreover, there is a separate residential element of Bonnaroo that makes this festival highly special. The event venue is home to separate residential complexes or quarters that tend to distinguish Bonnaroo from the other music festivals like Coachella. Therefore, you can look forward to making the most of the available time while bonding with others near your camp.
Attend the Late-night Shows: In previous concerts of Bonnaroo, world-famous bands like MOE. and McGee by Umphrey have taken the concept of late-night shows to another level. You can look forward to attending high-end late-night shows. These shows are known to start as late as 1 am and might even go up until sunrise –just the way Grateful Dead did last year.
Pack Smart: If you are staying at a camp in the Bonnaroo, do not expect it to be as lavish as a hotel stay. Therefore, it is recommended to pack accordingly such that you do not face any issues significantly. You should imagine Bonnaroo to be your home-stay for around 4 days. This implies that you will be required to bring in more supplies and items that will help you ensure a comfortable stay altogether.
If you are new to Bonnaroo, and wish to have the best-ever experience here, take a look at some of the top essential things that you cannot do without:
Your own toilet paper

Extra keys for your car

A specialized bandana that will help in preventing you from the dust around

Warm clothes for the night time –it might get slightly cold during the night

OTC (Over the Counter) medicines

Flashlight along with extra batteries

A rubber mallet that helps in hammering the tent stakes

A fan that is powered by battery

Earplugs for sleeping soundly
If you will be attending the Bonnaroo this year, it is advised that you should pay more attention to the packing requirements. This is because there is a complete set of new clear bag regulations by the authorities of the music festival.
Save Some Cash for the Cab: If you are camping at the Bonnaroo, you should aim at saving some cash for the cab facility. This is because the presence of some extra dollars can help you reach Centeroo from your camping site over a pedicab.
While we have briefed you about the essential tips to enjoying the Bonnaroo to the best-ever level, make sure that you utilize the additional functionalities offered by InCharged for keeping your devices charged with the help of innovative charging stations.