Mobile Photo Booth
A portable Photo Booth is worth a thousand words.
If there 'aint pics, did it even happen?
Say cheese.
Self Service
Don't have time to babysit the photo booth? Don't worry, attendees can use the Photo Booth on their own. Run a successful photo booth business.
Make an Impression
Show off your brand style with custom branding. The entire experience can be customized with your logo - even as an overlay on each photo that is taken.
Easy, Portable Setup
Whether you need a photo booth for rent or sale, our portable photo booths are the fastest photo booth setup you'll ever experience. Planning an event is already enough work.

More Social Shares
Users receive their photos via email or text, so they can easily brag about your event online. This is the perfect fit for social media engagement.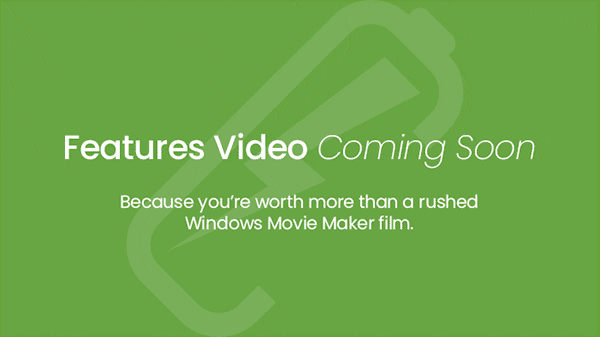 iPad Equipped
Built specifically for the 12.9‑inch iPad Pro. It features a smooth tilting head allowing for the perfectly framed photo every time.
Fun Templates
Choose between GIFs, Boomerangs, single photo, animated gif or 4-photo strips. Simple add on for your photo booth business.
Bright LED Ring
The ring light has 240 LEDs - enough to brighten even the darkest rooms. Your attendees have never looked so good. Powerful Ipad photo booths are the best photo booths to own.
*Hover image for
size comparison
WHAT IS THE LEAD TIME?
Our standard lead time is 3 weeks. However, we get rush orders all the time and can often turn around even in the same day. Rush orders will be charged an additional fee.
---
WHAT ARE THE POWER REQUIREMENTS?
The Photo Booth requires one 120V 15A outlet. Which is your standard U.S. wall outlet. Multiple units can be plugged into the same power source at once.
About our Mobile Photo Booth.
Our photo booth kiosks are easy to set up regardless if it's a photo booth rental or you've purchased your own. It is also and easy for your guests to use. It's built with intuitive iPad technology and includes a tilting feature to ensure everyone fits in the frame. It also features a halo light with a dimmer switch and interchangeable face plates, including a mirror. The InCharged photo booth kiosks are powered by powerful software that allows your guests to share their photos online, create GIF animations, take videos, and print both strips and postcards. Our software also features in-app camera controls that allow you to take advantage of the 5-megapixel iPad Pro, as well as the option to add custom branded frames to your images and animated gifs.
The InCharged photo booth is made right here in the USA out of laser-cut aluminum, with impeccable design details such as perfect mitered joints and flush-mounted hardware. We are the photo booth manufacture thats ready to take your next event to another level.
The Perfect Mobile Photo Booth For Corporate Events
We specialize in photo booths for events. The InCharged Photo Booth is sleek and professional – great for events where you want to add a fun and interactive touch while catering to upscale corporate clients. The illuminated ring light will invite your guests to take flattering selfies that they can share online, print, and take home as a souvenir.If your looking to start a photo booth business you want to make sure you start with a ipad photo booth for your first photo booth. You also want to decide if you want to add a photo printer, we offer tons of photo booth products. This custom photo booth is different from dslr photo booths because it allows you to get a business started or a new business with a product that's a perfect fit. Speaking of fits, it fits into almost any car. You can buy a photo booth and build a great company.
Mobile Photo Booths For Festivals And Trade Shows
When you're competing with other exhibitors and entertainers for attention, the sleek design and illuminated ring light of the InCharged photo booth will make sure you stand out! Your guests will love taking flattering photos they can keep, and they'll be reminded of your event each time they see their souvenir. This photo booth for sale is often imitated by other photo booth companies we are the photo booth manufacture for this custom photo booth.
You put so much into your even, so making it awesome is our highest priority. Whatever it takes, we've got your back.

Graphic Design Services
Don't have a designer in-house? No problem! Our design team is ready to bring your brand to life.
White Glove Addon
We know your hands are full. Let us setup, breakdown, and repackage your order so you can focus on the rest of your event.

Event Insurance
(Rentals)
Insurance is never a fun thing to buy, but $#!& happens. Protect your unit in case it all hits the fan.
Extended Warranty
(Purchases)
Buy a unit and you'll never have to worry. We cover any hardware issue for the lifetime of the unit.
Use the form below with any questions or to request more information on our Photo Booth. We'll get back to you as soon as possible (usually within a few hours during normal business hours).